TIMBER LVL
LIGHT . STRONG . DURABLE
ULTRALAM TIMBER LVL SUPPLIER
AUSWOOD distributes and supplies a full range of premium formwork Ultralam laminated veneer lumber (LVL) and scaffolding planks across Sydney, Melbourne and Brisbane, meeting your requirements to laminated veneer lumber beams for the toughest timber products in structural applications. AUSWOOD's Ultralam LVL boasts light weight and high strength, assisting formworkers, builders and carpenters to achieve high productivity and save on formwork products cost.
 Why AUSWOOD Timber LVL?
AUSWOOD is Australia's premium supplier of high quality LVL timber for formwork, house framing and scaffolding. Our range of timber LVL products are suitable for all types of structures and it enables formworkers and carpenters to finish an outstanding project every time. We pride ourselves in supplying and distributing the most durable timber LVL formwork products across Sydney, Melbourne and Brisbane. Our extensive experience in the building industry allows us to deliver most reliable LVL beams which last longer and support all structure types.

Benefits of Building with Ultralam Timber LVL:
High stability

Strongest wood-based construction material

Less prone to warping or shrinking

Lightweight and Durable

Cost-effective product
Ultralam Timber LVL
Ultralam LVL™ is an engineered timber with physical and mechanical properties surpassing solid timber, produced in the form of boards and billets of different types of veneer orientation and grade with a wide range of sizes. Ultralam LVL™ is certified according to Australian, European and US quality standards.
Benefits:
The strongest slow-growing softwood lumber out of Russian North-West Forests
Ecofriendly with best bonding characteristics phenolformaldehyde glue from Finland
The best water-resistant coating from USA
The most advanced wood processing machinery from Germany
Strict quality control and third-party audit from SAI Global, Australia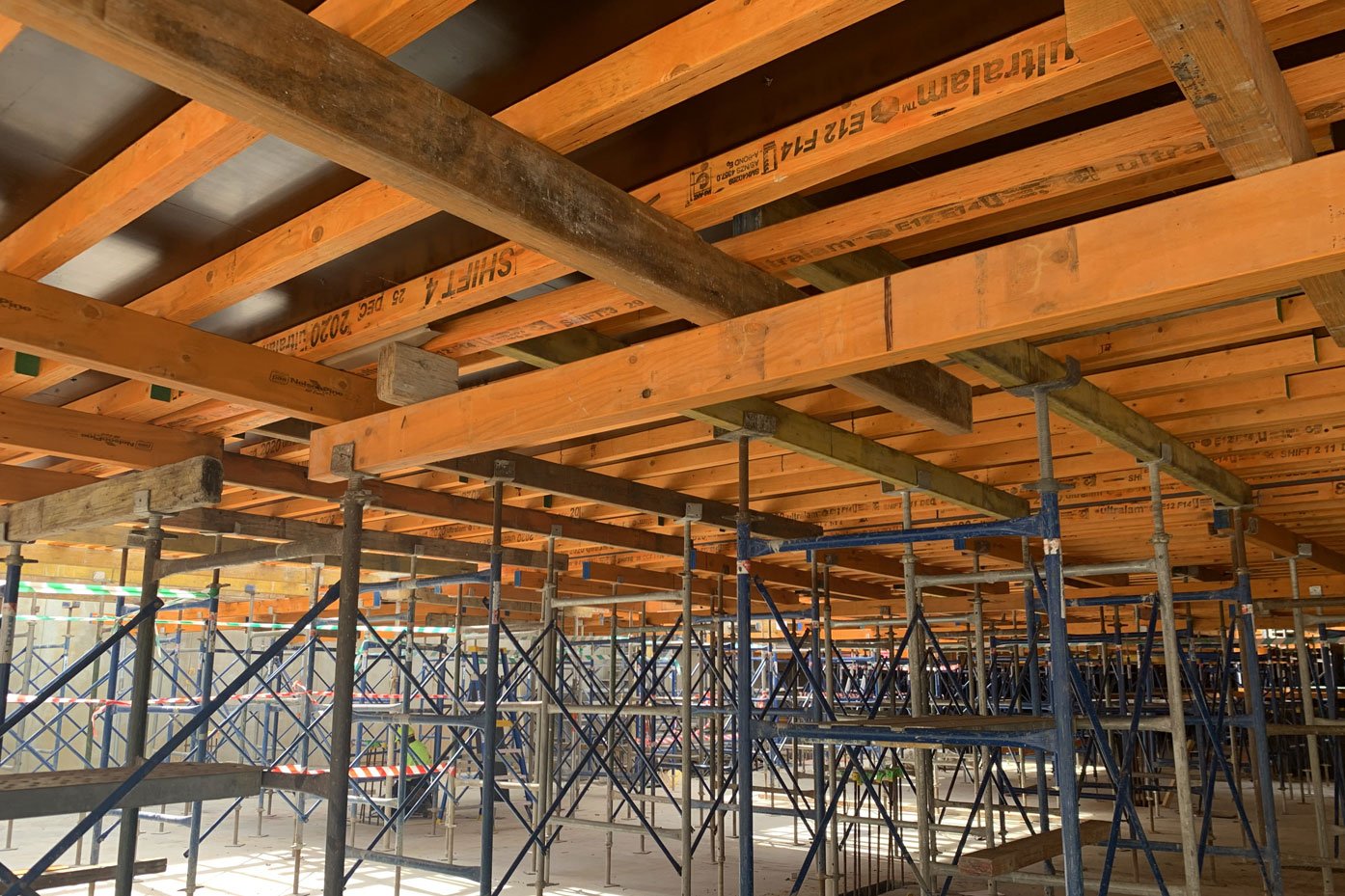 Specification
CONSTRUCTION
Norway Spruce and Scotch Pine
VENEER
Thickness 3.2mm
JOINTS

face and core scarfed veneers

GLUE

Phenol formaldehyde

STANDARD

AS3610; AS/NZS 4357

BOND

Type A ( Marine) AS/NZS 2098 and AS/2754

DENSITY

560 kg/m3

SURFACE

Orange water resistant coating

EDGE
Arised edges
TOLERANCE

-0/+4

Thickness

-0/+10

Length

STRESS GRADE

E12; E13

Formaldehyde Emmission

E0

SIZES AVAILABLE

95x63mm; 95x45mm; 150x75mm; 150x45mm; 200x45mm; 200x63mm; 240x45mm; 300x45mm; 300x63mm

LENGTHS AVAILABLE

1.8m; 2.4m; 3.3m; 3.6m; 3.9m; 4.2m; 4.8m; 5.4m; 6m; 7.2m; 12m

CERTIFICATION

SAI Global JAS-ANZ
CHAIN OF CUSTODY
FSC

PRESERVATIVE TREATMENT

H2 for interior framing
Brochure
Material Safety Data Sheet
Video
TOPplank
The structural uniformity of TOPplank LVL combined with the strict quality control of every manufacture process makes TOPplank excel not only for purpose of scaffold planking, but are also advantageous in applications of:
Anti-corrosive purpose and chemical enviroments
electrical insulation purpose meeting safety requirements
Where sparks arising from metal on metal contact may present a hazard for safety
petrochemical and gas industries
Features and Benefits:
100% renewable Russian spruce and pine
Strong and enhanced durability
Excellent structural rigidity
Lightest in weight
FSC chain of custody
Certified to standard AS1577
Available sizes 38mm*230mm in lengths of 2.4m; 3m and 3.6m
Edge Boards
Ultralam Edge Boards laminated veneer lumber is specially designed for straightness and strength.
Available at standard 36mm thickness and 6m length with optional widths of 100mm; 150mm; 200mm; 240mm and 300mm
Features and Benefits:
Lightweight – Faster to install
Painted for moisture protection
Sourced from managed plantation forests – FSC 'Chain of Custody' certified